Features and why Choose Friday?
ChatGPT Chatbot
Friday is a Discord bot that utilizes the ChatGPT language model to engage in natural language conversations with users. With her (premium only) persona feature, Friday can also switch between different personalities such as an anime girl or a pirate, providing a unique and entertaining experience for Discord users.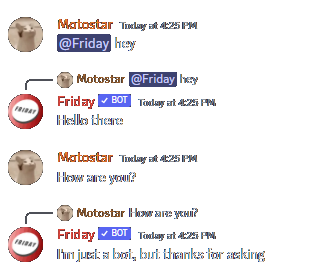 Moderation
Friday is always working towards making your servers better. With moderation tools, you can now give your moderators the power to moderate your servers easier and keep your communities safe.

To prevent spam and raiding if your server(s) Friday is also equipt with powerful features such as a phrase blacklist, invite spam, mention spam, etc...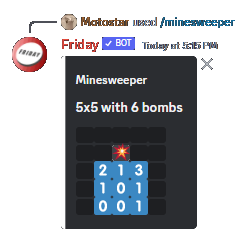 Music
Friday has music commands that allow you to play music from many media services, including Spotify and Soundcloud.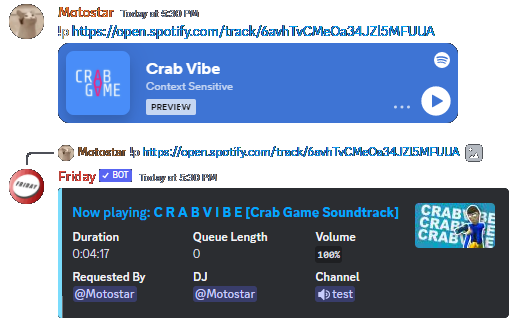 Frequent Updates
Friday is always working to make your servers better. With frequent updates, you can be sure that Friday will keep improving. Join Friday's Support Discord server and get notified when new Friday updates come out.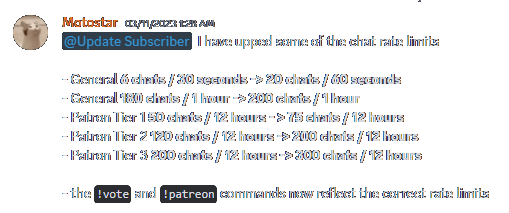 99.8% Uptime
Friday is always moving towards 100% up-time. Friday is always working towards making your servers better, and the up-time getting better so you can have a chat with Friday any time.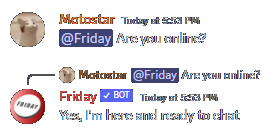 Reddit media extraction
Post a link to a Reddit post with media, and if Friday reacts with 🔗 then the posts media will be extracted if you too react with 🔗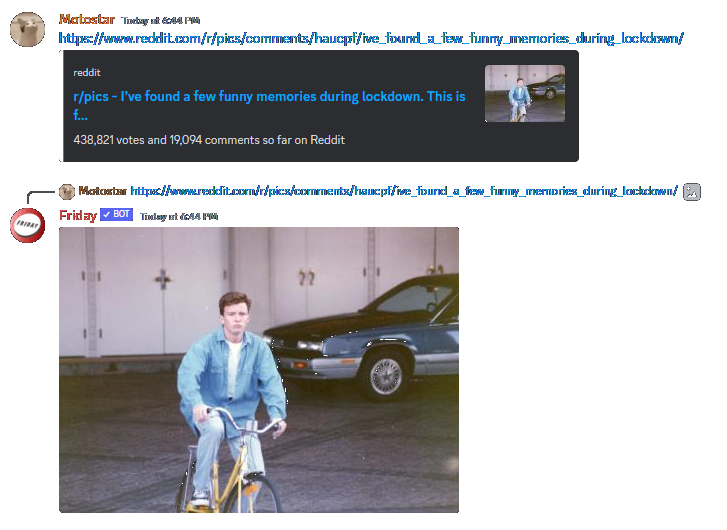 Personas
Change the way Friday responds to your messages, by changing the persona. Pirate, British, Anime and more. Make your own persona by becoming a Patron.
ChatGPT welcome messages
Greet new members to your server with a welcome message and/or role with Friday's welcoming features that can be configured on the web dashboard or through commands found on the documentation website. At higher Tiers Friday can generate unique messages for each new user.
And many more!
For the full list of Friday's features, check out the
Documentation site